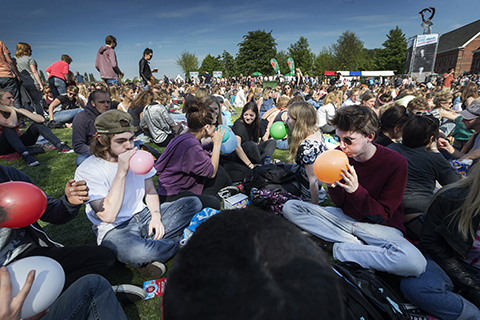 Lucrative party drug trade in Groningen
Laughing all the way to the bank
Laughing gas is cheap, fun, easy to get your hands on, and legal. Luciano de Vries figured he could make money on it. After finishing his law degree, he embarked on a career as a laughing gas distributor. 'It's like Groningen exploded!'
The effect is similar to being drunk. Student Lotte – tall, blonde, clearly in the mood for a party – makes her way to the busy Club Kiwi bar. The bartender bends over as she whispers something in his ear.
He disappears under the bar and returns with an inflated balloon. Lotte passes it to the guy behind her. The bartender passes her another balloon after balloon, until all her friends have one.
The round of laughing gas costs Lotte less than ten euros.
The friends sit down on a small couch across from the bar. They raise a toast with their balloons and hold them to their lips as one of the girls counts down.
Trip
In less than ten seconds, they're all tripping. Everyone is laughing – mostly at themselves – their hands moving in uncoordinated jerks. 'It's like the world just stops for a little while', says Lotte. 'Colours start to run together and the music sounds all funny.'
How safe is laughing gas?
Recreational use of laughing gas is legal, but not without risk, says Rob Otten from an addiction care centre in the north of the Netherlands. 'Huffing a balloon every once in a while shouldn't be a problem, but we're seeing this emerging trend of people using it like alcohol and doing it all night long. That's no good.'
While occasional use won't do any damage, according to a 2016 study by the Netherlands National Institute for Public Health and the Environment (RIVM), frequent use is risky. It can lead to neurological issues, fertility problems, and frozen lungs.
It's clearly a nice trip, but a short one. The high lasts less than thirty seconds. When it's over, everyone heads back to the dance floor.
Club Kiwi isn't the only place that sells laughing gas, but manager Carlos Miranda was the one to introduce it four years ago. 'I noticed it was being sold at festivals and I wondered if I could bring it to Groningen.'
Back then, it was still illegal. Nitrous oxide came under the Medicines Act, which banned recreational use of the substance. 'Because of that, we only sold it at the hardstyle and hardcore parties in the room above the club', Miranda says.
Popular
But two years later, laughing gas came under the Food and Drugs Act instead, and Miranda was the first to make it a regular part of the club experience. It was a great success. 'I noticed my club started becoming a lot more popular', says Miranda. 'Although I hope it's not just because of the laughing gas.'
Laughing gas is extremely lucrative. A quick Google search of 'laughing gas' and 'Groningen' brings up a list of couriers willing to deliver a canister of laughing gas that same evening, or even during the night. The canisters are used to fill the balloons.
It's like the world just stops for a little while. Colours start to run together and the music sounds all funny.
Other clubs in Groningen, such as Kokomo and Sunny Beach, have also started selling laughing gas. And people are no longer surprised when someone brings a canister to a student party.
During King's Day, students in the Poelestraat made some nice pocket change by allowing partygoers to get a balloon-full from the 'keg' they'd hidden behind a mailbox.
Earning
Luciano de Vries (28) is out-earning all the clubs. The law graduate and former Vindicat member is also a former housemate of the students at the Poelestraat. Last year he launched Slagroompatroon-bestellen.nl, where people can order canisters. 'I deliver canisters to practically all the clubs in Groningen that sell laughing gas', he says.
What is laughing gas?
Laughing gas is also known as dinitrogen monoxide (N2O), a chemical compound consisting of nitrogen and oxygen. The compound was used as an anaesthetic to put people under. Inhaling the drug has an analgesic, relaxing, and anxiety-reducing effect. This is why it's also used by many dentists. The gas has also been used as a propellant in whipped cream canisters.
Laughing gas used to be classified as a medical drug, and recreational use was illegal. In 2016, the Dutch High Court reclassified the compound under the Food and Drugs Act.
Inhaling the gas will cause a temporary shortage of oxygen in the brain, leading to a high that lasts a few minutes. People feel relaxed, giggly, and happy. It can also affect sense perception.
He also sells to clubs in Surinam, England, Denmark, Morocco, and Ibiza. 'We grow by approximately 50 percent a month, I think. We can barely keep up. It's like Groningen exploded.'
He never planned to make a career in laughing gas; he originally wanted to be a lawyer. But at nineteen he started working summer jobs at the Costa Del Sol, in Blanes and Lloret de Mar, where he eventually worked his way up to event manager. And that's when the laughing gas trade found him: 'I was approached by a supplier, who said that he had a pallet of laughing gas canisters left over. He asked me if I was interested in taking it off his hands.'
Lucrative
He realised quickly there was easy money to be made, and so his company was born. He has four colleagues, and they all work seventy or eighty hours a week.
'It's extremely lucrative', he smiles. He hasn't made much profit yet, since all the money is currently still being spent on the company. 'But our revenue is enormous.'
He loves his job. 'I'm working with my best friends, who doesn't want that?' he says. He gets a kick out of the work the fast-growing market, and making deals with suppliers in Poland, the Czech Republic, and Belgium.
His law degree has come in handy as well; the company is properly managed. Clubs doing business with Luciano can write off their VAT, and they get a proper invoice – which isn't a given in this line of business, since the substance was very recently illegal. 'I think that's why people prefer ordering from us.'
Forward
The other skills necessary to run a business – being responsible, working with people, and negotiating with various parties – he picked up during his year as chairperson for student football association Forward.
Does he think he'll be doing this for the rest of his life? He chuckles. 'I think I would eventually like a standard 9-to-5 job', he says. 'But I'd love to continue working with the people I started this business with. Maybe in real estate.'
But for now, he spends day and night to sell laughing gas. 'Who knows, maybe they'll make laughing gas illegal again at some point. We'd like to make all the money we can before that happens.'
Did he have anything to do with the laughing gas his ex-roommates were selling on King's Day? Luciano grins: 'I supplied the canisters, of course.'